This week I decided to give new life to a vest I've had for a while. I usually don't do up this vest when wearing it because thats usually how I rock that particular style but also because on this vest this it doesn't fit quite right. I decided to change that as well as add to it to give some extra oomph!
Before photo.... Notice four buttons and loop closures.....
Tadaa! I took off the top button and loop closure and voila the vest fits completely different! I thrifted this vest and I'm wondering if perhaps this was a child's vest due to the lack of bust shaping? I also added this little silk charmeuse peplum from a remnant I had in my stash.
I totally slacked on this project and used the fabric edge as my hem instead of having to do a hem!
This was a fun little project that I came up with last minute after the shirt I was going to rework had a stain in it! I think it turned out great and I can't wait to wear it out for a test drive!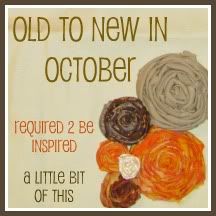 Not only is this a fun project hosted by the above's lovely ladies, they're giving away prizes at the end of the month including accessories from Anika Burke, I'm loving the fun chunky necklaces and rings!